Curiouser and curiouser!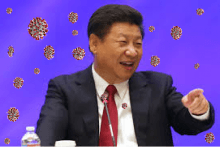 Will Trump go 'full Boris' after his brush with the 'China virus' and follow the Democrats with more lock-downs, or will it harden his resolve to get America back to work? Hopefully it will be the latter, as the pace of employment growth is already slowing and Pelosi's foot-dragging on the stimulus bill will only aggravate this, particularly as the availability for the vaccine, in volume, gets pushed out to Q2 next year.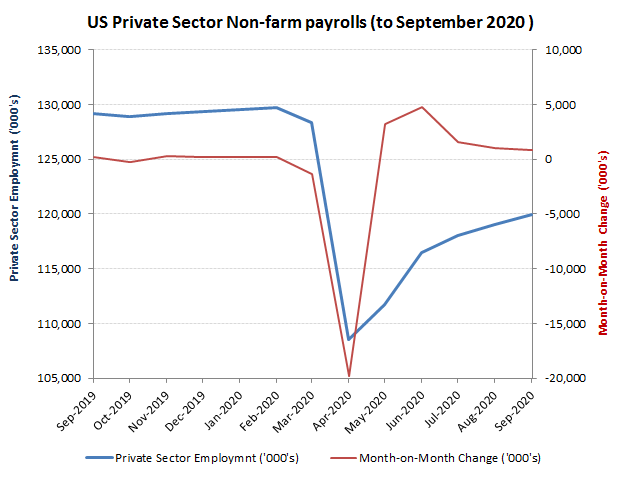 While the +887k rise in private sector jobs in September now puts the total numbers employed only around -8% down YoY, the pace of employment recovery also appears to be slowing, particularly at the expiration of Govt furlough support and lack of replacement stimulus sees returning staff being increasingly laid off. A feature that is hardly going to be helped by the elevated uncertainty engendered by the post holiday spike in CV-19 infections and now with the the President falling foul of this virus at perhaps the most critical juncture ahead of the 3 November elections, while Democrats wind up the negative economic narrative. In all, hardly conducive for a sparkling set of employment statistics for October, albeit those will be out on Friday 5th Nov, so after polling day.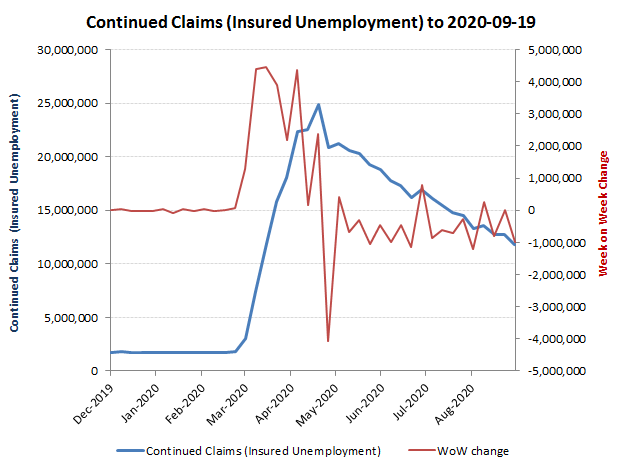 While the BLS non-farm payroll statistics are survey data, the weekly insured claims for unemployment are hard numbers, although this can lag the NFP survey data into a new month. Last month, for instance, we so far only have the weekly data up to the 19th September, which cumulative for the month to that data suggests a reduction in claims of almost 1.8m, albeit with some considerably volatility by month. Does this suggest a substantial increase in insured claims into the end of September, in order to reconcile with the substantially lower net private sector employment growth reported in the BLS NFP release, or will alternatively, will this result in an upward revision in the September estimate when the BLS release their estimates next month for October? Somehow, the former seems more likely at this stage!