US wage growth slows in August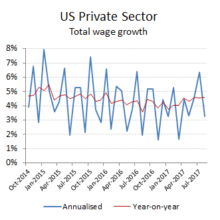 In between hurricanes, German elections, North Korean bomb and missile tests and the usual Jackson Hole navel gazing fest for central bankers, the August non-farm payroll estimates from the BLS may have struggled to make the front pages.  At +165k, net private sector job additions for the month (+174k excluding movements in seasonal adjustments), it was fairly uneventful, albeit the downward revision to both June and July job growth (from +231k to +210k for June and from +209k to +189k for July) and slight drop-off in average hourly wages (from +9c MoM in July to +3c MoM in August) suggested little rush for the Fed to harden rates. For Draghi, that probably comes as a relief, to enable the ECB to continue to goose EU growth over Merkel's re-anointment and of course those pesky Brexit negotiations. Prospective rate rises may return to dominate the market's agenda later in the year, but between the softer economic data, external depressants from weather to Korea and with US tax and healthcare stimulus stalled by the RINO's, the current environment is not particularly conducive for one.
Private sector wage growth
Average hourly wages in August may still be around +2.5% ahead of this time last year, but the drop off in MoM growth from July's +9c to only +3c in August suggests an annualised rate of only +1.4%, which including the +0.3% rise in average hours worked, translates into an annualised private sector wage increase of only +1.7%; barely +30bps ahead of US inflation and lagging the YoY advance of +2.8% by over 100bps.
Add in the annualised increase of +1.7% to private sector employment (also +1.7% YoY) to the +1.7% annualised rise in average wages and that suggests total private sector wages grew by approx +3.4% annualised in August; a drop of around -120bps from the +4.6% YoY trend.

August private sector job growth by sector
The stand-out changes by sector in August must be in manufacturing, with its +36k net adds representing an annualised increase of +3.5% versus the YoY increase of only +1.1%. Perhaps somewhat surprisingly after the ongoing contraction in US light vehicle sales this year (-1.9% in August and -2.9% YTD), this included a +14k increase in August jobs for the 'motor vehicles & parts' category. In normal circumstances, given the increasing stocks of unsold vehicles piling up on dealer forecourts I would expect these job figures to reverse as production is cut back into the Autumn, although the estimate that around half a million vehicles may need scrapping after Hurricane Harvey may have provided a silver lining to the auto workers in terms of much needed marginal demand.