"US Economy added only 148k jobs in December" …… Oh really?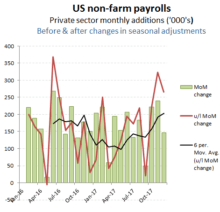 A new year it may be, but don't expect much improvement in the headline analysis of spurious government statistics. On Friday we had the December non-farm payroll figures. The headline net job additions was 'only' +148k in the month, which CNBC, the WSJ and other main media were quick to inform us was below the +190k that the 'experts' in LaLa Land had been predicting.
It might seem strange then that Treasury yields edged ahead slightly on a jobs report that was signalling a less robust rate of job formation than 'expected'.
The reason of course, is that bond markets are smart enough to look beyond the bullshit media headlines and might just have noticed the heavy manipulation to the year-end seasonal adjustments and which stripped -119k from the December reported figures and that excluding these, the underlying private sector job growth would have been +265k, with a not dissimilar +270k pm average for the trailing quarter.  Somehow I doubt the experts on +190k MoM net adds where including this in their guesstimates!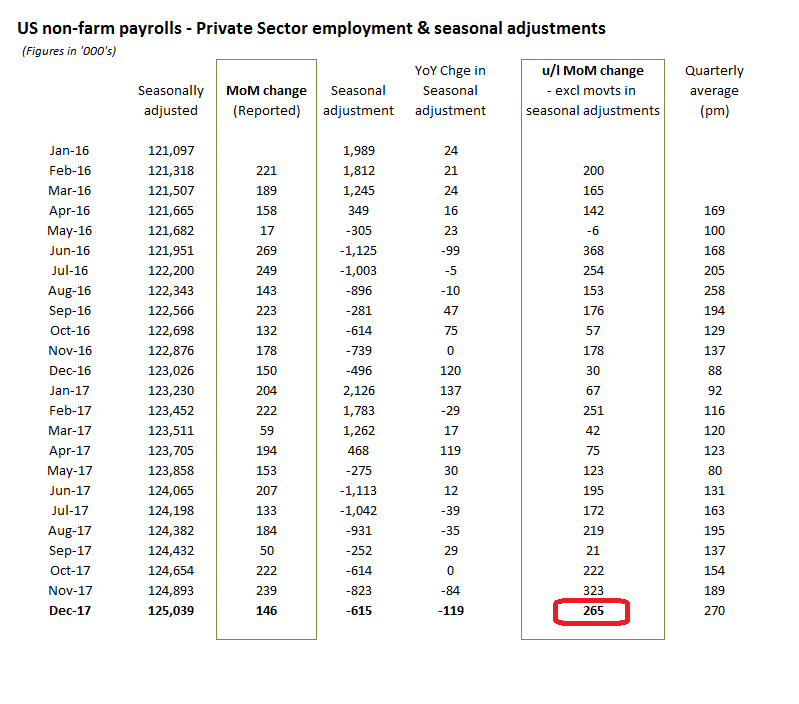 If underlying private sector net job growth in Q4 was considerably stronger than expected (and perhaps appreciated by mainstream media), what then of those scary inflation signals that might persuade the Fed to accelerate its planned interest rate rises? While, the +0.34% rise in MoM average hourly wages (to $26.63 ph) would suggest an annualised increase to an inflation busting +4.1% (vs implied inflation of +2.0% from the long treasury-TIPS rates), this in large part reflects the depth of the trough in wages over the hurricane impacted month of October (at -0.9% annualised) and muted recovery in November (of only +1.4% annualised).  As a consequence, the YoY increase in actual average wages in December of +2.5%, remains below the 2017 average increase of +2.6%. – Hardly the stuff that inflationary wage spirals are made of!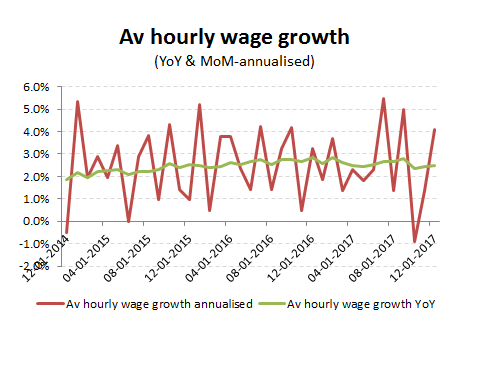 The reported weak job growth of +148k for December, was instead a forecast busting +265k and with upward revisions to the prior month estimates meant that the average MoM net job growth was even a little higher than this at +270k pm.  With average hourly wages recovering from their October trough, that also should have provided for a meaningful boost in average private sector income growth into the start for 2018, but not so much as should spook bond markets or Fed rate vigilantes.
In last month's Non-farm payroll analysis I referred to these as being positive for equities, which with a lower US$ has been reflected in higher indices. With the confirmation of the Trump tax reforms and these December NFP figures,  equity bears may continue to struggle to find a catalyst.