Seasonal adjustments salvage what would have been a dire October non-farm payroll number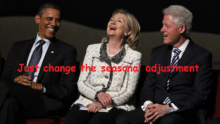 Think +142k in October for Private sector jobs was poor? How would you feel about +37k then?
Unlike in some countries, the US government would never stoop so low as bend some piece of economic data to gain a political advantage ahead of an election. The recovery in Q3 GDP to +2.9% ('real') trumpeted a couple of weeks ago on the back of a drop in deflator,one-off soyabean exports and a surprise inventory build, despite falling consumer confidence and slowing growth in disposable income, was simply a fortuitous convergence of unrelated events. This statistical bonhomie is clearly infectious, because the BLS decided to cut the size of the negative seasonal adjustment to the October private sector non-farm payroll numbers from -716k in October 2015 to -611k this year, adding an additional +105k of jobs to what might have been a collapse in MoM net additions from September's +191k to only +37k, rather than the announced +142k. Not exactly what many in the administration and Fed might want to see just 4 days before the elections and a month ahead of yet another threatened rate rise!
Taking the first draft of the official data at face value, there's not a lot to get too excited about in the October payroll numbers – probably the intention!  The total net additions in the month reported at +161k, was a little shy of the circa +175k being touted around as the consensus estimate and slightly below the +191k reported for September, but with average hourly earnings edging up by +0.3% MoM (to $25.92) and +2.8% YoY there was little here that could provide last minute ammunition for either side in the political divide.  Taking the more relevant Private sector data, the data was a little worse, with MoM additions dropping from +188k in September to +142k in October, although the overall narrative remains the same.
By industry sector, manufacturing continues to struggle while growth comes through in service sectors, in particular Healthcare and Temporary help. With the stabilisation in oil prices, the Mining & Logging segment also remains broadly level MoM following the earlier steep falls. Another segment that seems to have stabilised after an earlier contraction has been Information Technology, albeit with cuts at the bellwether Cisco and reports that IBM Corp, Hewlett Packard Enterprise Co, Oracle Corp and Dell Inc may follow suit, this may just be a lull in the storm. Unlike their European and Asian counterparts, employment it Financial Services remains remarkably robust in the US compared with the blood-bath underway on the other side of the Atlantic.