Sky's response to rising churn and weaker subscriber growth is……to put prices up. Brilliant!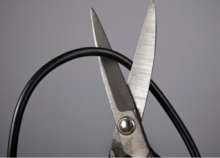 Yesterday, Sky announced its Q3 FY16 results (the Jan-Mar 2016 quarter) where it reported a slight deterioration in net subscriber additions in its core UK operation (of +70k QoQ vs +127K the year before) including an increase in churn from 10.1% to 10.7% notwithstanding a flat ARPU of £47. After the +6.8% UK sales increase in its first half year and +16.3% rise in operating profits, Q3 sales advanced by only +3.9%.  However after H1's +4.8% cost increase, Q3 cost inflation was held in check at only +2.1% to enable Q3 operating profit to still deliver a still impressive  improvement of +12.4%. While I must have missed it in the results release, the group imposed a series of what appear to be quite aggressive subscription price increases across its UK subscriber base right at the end of this reported period which will impact in the forthcoming Q4 results. To respond to a shortfall in demand by cutting investment and raising prices seems to be a tactical response to ensure a short-term 'pop' in sales and profitability to 'make the numbers' rather than a particularly coherent strategy to build longer term value.
On the 30 March, I along with many UK subscribers will have received a notification of a £3.75 per month price hike (about +8% against average ARPU), for all that "great entertainment" that I increasingly don't watch. In fact I am struggling to remember the last time I watched a programme on one of our Televisions. About 10 years ago I was taking out two subscriptions, one for the kids and one for my wife and I which were invariably watched on one of our TV sets. As children grew into teenagers however, they stopped watching TV, migrating instead to their mobiles and tablets as faster broadband made streaming feasible. Now, no one in our family watches the TV, so I now have house full of unused TVs gathering dust. Sky has tried to follow us out of their walled garden with Sky Go, but with diminishing success. Last year, my multi-room subscription became a single subscription and now it might get junked completely. This unfortunately is what happens when you rely on a distribution bottleneck to secure exclusive content rights and end user access which can be translated into super-normal margins.  I have lost count of the number of times I have sat through a corporate presentation by Sky which starts with a flashy video of a lot of exciting and high quality content, content (and value) that has been made by someone else. The reality is that when viable alternative distribution routes become available and regulators are alert to the temptation of incumbents to abuse their dominant position, then it's game over, at least for super-normal distribution margins. Then, the distributor has to add value elsewhere in the food chain, such as in more sophisticated delivery systems (smart STB's and streaming) at one end and content origination at the other. The inevitable effect of these however is to increase capital intensity (they cost, and a lot!) and lower returns (your margins get hammered).
Raising prices into such a structural change can be hazardous as it offers a catalyst for change. If a substantial new and better range of content is on offer or the functionality of the distribution process is so compelling, then subscribers may concede the increase. If little, except the price has improved while you are consuming less, because you can now access better alternatives, then Sky's attempt to offset a slowing rate of subscriber growth with a heavy price increase to bump up the Q4 numbers and make the consensus estimates for the full year is   merely going to aggravate the already structural decline.
In this it reminds me of the then Mersey Docks and Harbour Board (MDHB). When damp Manchester was importing cotton to feed its mills, Liverpool Docks had an effective monopoly for ships too large to navigate the Manchester Ship Canal and prospered along with the rest of Liverpool from its control of this distribution bottleneck. As industry and textiles waned in the North West and bulk cargoes were replaced by containers, shipping volumes using Mersey Docks declined, a process not helped by strikes to forestall containers.  So how did MDHB respond to this loss of volumes you may ask. Did it become more competitive and broaden is value proposition? No it jacked up prices to try and offset the volume decline. As with the modern consumer of video entertainment however, ship owners 50 years ago no longer needed to pass through the MDHB turnstiles and could take their containerships to numerous container ports up and down the coast who were hungry for business while much of what were Liverpool's docks have now become a World Heritage site!