Sky – cutting the cord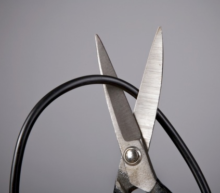 What could possibly go wrong? Sky subscriptions are cyclically resilient because people go out less in recession and therefore spend more time at home where they value their telly subscriptions more. This was certainly true back in 2008 and before that for US cable in 2001.  I should know, I was trotting out this argument in research reports at the time.
What was true then however, does not necessarily apply for today. The difference is not so much that Sky has recently jacked up subscription prices by approx +5% to help claw back almost £930m of additional football rights cost increases this year from Germany and the UK or that it is also squeezing programme investment elsewhere. The key difference is that the patterns of consumption have changed and that there are alternatives. There is also tougher regulatory oversight to ensure dominant players such as Sky are not able to abuse that position to ensure its continuation by blocking access to content for newer players.
Take my experience as an example. Having been a Sky subscriber for 18 years I have just cancelled. First went the multi-room subscription several years ago when my daughters migrated from both TV viewing and Sky, to mobile and streaming. More recently, Sky reminded me I still had a subscription by informing me that they were raising my monthly charge. This was very helpful as it alerted me to just how much the subscription had crept up over the years on the direct debit, but also just how little it was used. Apart from the occasional movie, and that usually watched on a mobile or tablet, I realised how little Sky was being watched and never from a big telly.  A big telly, means high resolution, which certainly in the past meant a big data pipe, so you were stuck with either cable or satellite. Now however, most of us have much faster and more reliable broadband (either fibre or 4G), but with less bandwidth hungry devices to stream content down to. The distribution bottlenecks therefore are unravelling fast, from a combination of improved bandwidth and changing patterns of consumption and this is also being matched by the proliferation of new content providers into the market, some like BT who are using content as a loss leader to protect a legacy telco operation. Others such as Amazon and Netflix however, are also looking to originate their own proprietary content to secure their position in the changing value chain.
Sky can raise its price on live sports rights until it can't, but even then can deny access to those unwilling to pay as it has exclusive rights. Even here though regulators are insisting on plurality of supply with no single programme packager permitted to own all the rights. As broadband access becomes more ubiquitous, expect this regulatory oversight to carry through to other areas such as movies and other rights. If Sky isn't originating the rights, isn't able to force consumption through its proprietary distribution turnstile or secure content rights by leveraging its scale advantage to lock out new entrants, then what's the model? Keep paying more for fewer exclusive sports and content rights or add value from throwing more capital at the technology?