April US employment growth – Goldilocks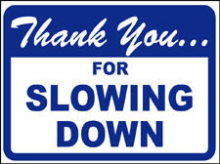 There seems to be a whole industry that has emerged to pore over the monthly US non-farm payroll numbers, but ultimately there are only two things of interest.  Are US corporate sacking enough employees to signal an impending recession, or employing so many and paying so much as to spook the Fed into tightening monetary policy and thereby risk the former?  Within these parameters, April's non-farm numbers would seem to suggest neither outcome.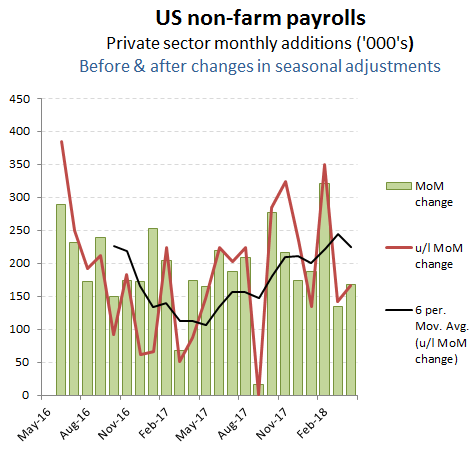 April's net private sector net job growth of +168k (+166k excluding changes in seasonal adjustments) represents an annualised rise of +1.6% and therefore a slight reduction on the YoY trend of +1.9%, albeit is still ahead on overall US population growth. Without much change in seasonal adjustments to worry about for once, it's difficult to spin much of a story around these reported numbers, at least from a macro perspective.  The growth is respectable and broadly based and doesn't suggest companies are panicking during the current trade negotiations. Neither however, is it a ringing endorsement (yet?) of Trump's attempts to drive high value added job growth back into the US.
For those agonising over the inflationary pressures of falling unemployment and therefore potential ammunition for the Fed to accelerate its monetary tightening programme, there's not much in the April data to get overly concerned about. Notwithstanding that net job growth was sustained across what might be regarded as premium wage sectors such as Professional & Business Services, this hasn't shown up in the average wage growth numbers, with the annualised rate actually easing back from the prior month.  With a MoM rise in average hourly wages of only +0.15% in April equating to an annualised rate of only +1.8% (vs +2.7% in March), this has dropped back to well under the YoY trend growth of +2.6% and therefore is hardly suggestive of a more aggressive intervention by the Fed.
Looking at the sector distribution of the April net job adds, the key features was the strength in 'mining and logging', which reflects the step-up in fracking production on the rising oil price, but further softness in retail/wholesale segments.