Canadian Pacific merger offer to Norfolk Southern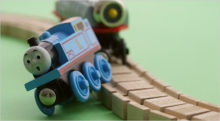 A year ago last month, Norfolk Southern's (NSC) CEO, Wick Moorman was facing a proposed merger of one of its principal rivals, CSX, with Canadian Pacific (CP). At that stage, Mr Moorman was quoted as saying that a large railroad merger would be "highly problematic" and would face "far too many regulatory hurdles". Â While conceding that previous mergers had created cost synergies, Mr Moorman also went on to downplay the prospects for additional ones today because "there aren't that many overlapping routes, and there aren't that many redundant facilities. I just don't think they make sense at this particular time." At that stage CSX's Michael Ward agreed that further mergers were also "a bad idea" and the CP merger proposal foundered.
So one year on and we now have CP's Hunter Harrison serenading NSC with his siren calls for a merger.  While market conditions and share prices have performed poorly over the intervening period as coal and oil shipment volumes have been crushed, not a lot has changed structurally for the industry. Stale bulls and so called 'activist' shareholders who have been nursing losses however need feeding and are clearly the driving force behind this new approach and are dangerous to cross; hence the alleged participation of NSC in these preliminary 'negotiations'.  If Mr Moorman's assessment of the cost synergies only a year ago were true, then a merger will also need to drive revenue synergies. These however may may start to look like using scale to exert pricing power, which might also alarm regulators.
Another example of managed decline facilitated by cheap debt masquerading as a corporate strategy!
For an assessment of the valuation implications of a merger see the investment summary section on NSC in our GrowthRater "Analysis" section