US non-farm payrolls in May – temporary jobs disguise sharp contraction in full time employment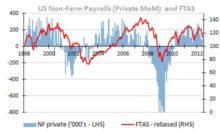 May represented another month of aenemic employment growth, with seasonally adjusted private sector additions of only 82k, after April's revised +87k and expectations of around +150k. Including a further contraction in Govt employment (of -13k vs April's -10k), overall monthly employment increased by a mere +69k vs April's +77k and Q1's average of +252k pm.
While bad enough, the increase in temporary employment disguised a less encouraging underlying performance. Part-time workers for "economic reasons" (ie because they could not get full time employment), increased by +245k in May, from 7,853k to 8,098k. This implies an underlying contraction in full-time employment of -163k in May vs April.  With the unfolding crisis across Europe and slowing econonic growth out of China and also Brazil, the increased reliance on temporary workers is perhaps unsurprising, but it also could herald a reversal in the overall headline numbers should the weaker prospective demand translate into a cull in these temporary jobs further downstream. With a close correlation between this US employment growth and equity markets, the deteriorating employment situation provides yet another component to an increasingly sharp correction in equity prices.