Deteriorating US NFP – a negative lead indicator for marketing investment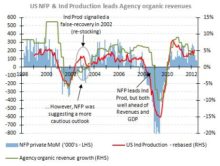 US labor laws mean that US companies can hire and fire with relative impunity. Regardless of the longer term advisability of treating what ought to be a longer term resourse as swing capacity, it does afford equity markets with a near real time metric of US corporate investment and an effective lead indicator. When firm's cut staff, they are often cutting investment elswhere, including marketing. As the the below chart highlights, this also translates into agency organic revenues, notwithstanding the increasing contribution to growth from emerging markets. The deterioration in underlying US employment growth therefore provides a red flag to what has been a robust recovery in marketing investment and agency organic revenue growth.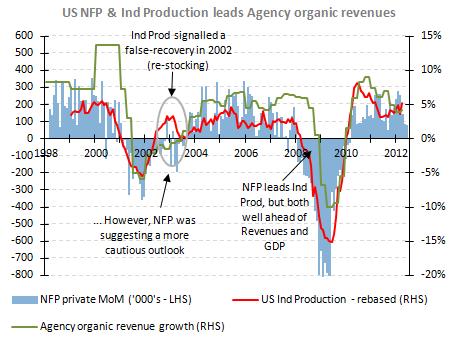 Where organic revenues go, so do agency share prices and relatives.  Up until the end of Q1 this year, forecasting risk on marketing investment has erred to the positive. As economic prospects deteriorate and employment investment reverses, we expect this to adversly effect this momentum in marketing and flip near-term forecasting risk to the negative.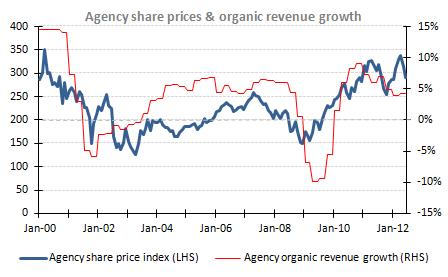 Agency valuation summary – implied growth ratings and organic revnues