Yahoo drops its plan to spin-off its Alibaba stake – Oops!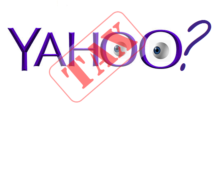 After almost a year since announcing the planned spin-off of its remaining holding in Alibaba, Yahoo's board of Directors "after careful review.. has unanimously decided to suspend work on the pending plan". Tax reasons are cited for the volte-face, in that the IRS (as we reported only last week) were unimpressed by the whole scheme and declined to give the deal the all clear. Never wanting to let a fish off the hook, the latest wheeze from their tax 'advisors' now seems to be to keep Alibaba, but spin off everything else. I wouldn't claim to be an expert on US tax laws and precedents, but doesn't the IRS also have look-thru powers to over-rule artificial scheme contrived solely for the purpose of avoiding a tax liability? After spending a year on the last scheme one must wonder whether Yahoo is taking its tax advice from the same source and if so, whether the new scheme is any better, or just shifting the tax liability down from the company to shareholders.
From the perspective of the shares, not a lot has changed from our last posting. The tax liability ought to be recognised even if a sum of parts type valuation approach is being adopted which includes the current market prices for Alibaba and Yahoo Japan. Given the increased uncertainty that these assets can be transferred in a timely fashion to the underlying Yahoo shareholders, there may now even be an argument to include an element of investment trust type discount as well. The lack of confidence in timing, or even likelihood of a deal even happening also might severely limit the attractions of this as an arbitrage play. We include the chart from our previous post on the valuation range of Yahoo using Alibaba and Yahoo Japan current prices, although in our own Yahoo valuation we apply our valuations for these assets. Using current share prices of the various investments only works as an arbitrage if there is near term prospect of them being crystalised, so enabling investors to short those listed instruments while going long of Yahoo to take advantage of any inherent implied discount on the rump or realisable tax asset. No deal therefore means no arbitrage opportunity (as opposed to an asymmetric risk carry trade). In this scenario, relying on the current market values for Alibaba and Yahoo Japan therefore is making the assumption that these are correct and will remain so – somewhat risky!