April Non-farm payrolls: how to turn +76k jobs into +194k

This is feeling like Groundhog day. Another monthly jobs report by the Dept of Labor showing strong employment growth and triggering a wall of narrative from the markets proclaiming the next rate rise like the second coming, but another conclusion based on what Trump might describe as 'fake news'.  Were those who predicted April MoM job growth at +190k, or those predicting a 90% probability of a June rate hike after these job figures were reported at +211k, actually aware that +118k of this was simply a result of increasing the seasonal adjustment?  Or perhaps more to the point, since these figures are not difficult to extract, would it have made any difference to to narrative? If the game is all about talking up the risk of a rate rise to deter increased debt based consumption rather than actually doing it and risk real damage to disposable incomes, then it makes perfect sense for so long as the illusion lasts.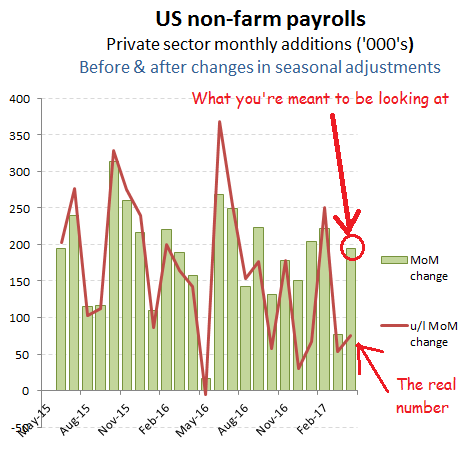 Check out below the table for private sector jobs and how the adjusted numbers that are being increasingly manipulated by more extreme changes to the monthly adjustments
So according to Bloomberg and Reuters, the strength of job formation makes a June rate rise a very high probability
While for Bloomberg, this also undercuts Trumps case for tax reform, no doubt supported by another peachy GDP forecast by the Atlanta Fed for Q2 at a mighty +4.2%, although not supported by the the NY Fed which is now below +2% for Q2 and falling.
So there you have it. Excluding changes in adjustment, a monthly private sector job increase of +76k that was under 40% of the reported number for April and two reserve banks that are around 240bps apart on their current quarter GDP forecasts.  Not the stuff that inspires much confidence!