Falling used car prices and implications for residual values and margins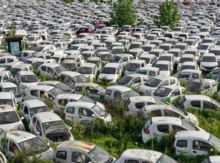 After a couple of bumper years, used car prices are now falling, with two further reports out this week suggesting a worsening rate of decline. For manufacturers of new cars & trucks, this presents a challenge to prospective profitability as the residual value assumptions that has been bolstering their financing operational profits may now flip into reverse. Exacerbating this process, as well as embarrassment, is the auto category experiencing the greatest pricing erosion, that of EV's!
Just ahead of Christmas, US used car dealers, including Carmax had been reporting a softening n used car & truck prices. For Carmax in its Q3 results (reported 2022-12-22), this included a report that wholesale selling prices were down by around $600 per unit, or -6% YoY. This week however, a couple of new reports are suggesting that the pace of deterioration is getting a lot worse, even accounting for the usual publisher hyperbole of "free-fall". Of particular concern will be from the Cap HPI data being reported by 'cardealermagazine.co.uk' which reveals the greatest declines are being seen across some Tesla and other leading EV models. With automakers already struggling to demonstrate that they can raise margins on EV's to match those with internal combustion engines, falling used prices will only make this more difficult, both from the perspective of new car price resistance and of course the less well understood impact on assumed residual values that are recognised with current margins.
The other report was in Forbes, which also is suggesting prices "have much further to fall".
In thinking about auto manufacturers profitability it is easy to focus on unit sales, average prices and more recently on component supplies and raw materials, including energy costs. These are not merely widget manufactures however, but sophisticated financial service enterprises, with the majority of sales financed by their internal financing arms and often on leases. As such, the recognition of profits includes an assumption of the residual value of the vehicle. The higher the residual value, the greater the profit and margins, so the recent step-up in used vehicle prices over the last couple of years can also be seen to have been reflected in a similar uplift in profitability of these auto financing operations, as evidenced by the quarterly EBIT of the respective divisions at Ford and GM in the below chart. As used prices fall however, one ought therefore to presume that this will also be reflected in the assumed residual values being applied in the profit recognition, with a consequential negative impact.