Q1 Previews – Agencies

Today's Q1 results from Google provides a prelude to Q1 reporting season for the marketing services groups which kick-off next week (18-22 Apr) with Omnicom which reports on Tues 19th and Publicis on Thurs 21st. The following week IPSOS reports on Tues 27th with WPP and Interpublic on Thurs 28th.

With Q4 recovery momentum already reported to have been maintained into at least the first two months of the Q1 by many of the leading groups, these results will will be scanned more for signs of slowdown into Q2 and the second half of the year as deteriorating macro growth expectations compound the drag from tougher prior year comparatives. While the market's focus will remain on the revenue trajectory, the other feature of note will be any revision to margin expectations and the extent to which the recent uptick in acquisition activity will enable some groups to displace planned internal investment that would have otherwise have diluted this year's margin progression.
Q1 Revenue growth
For the overall sector, I am expecting YoY organic revenue growth to ease back from Q4's +8.9% to just over +5% for Q1 2011, in large part reflecting the increasingly less favourable comparative tailwind as we progress into the current year. After Q4's -6.4% prior year comparative, Q1's hardens to +1.5% while Q2 rises to +5.5% for agency organic revenues. As with the slowing YOY growth rates being reported across a number of media advertising markets such as TV into Q2 as they also cycle through tougher comparatives, we would expect a slightly more cautious tone to adopted by the industry than during the February year end reports, albeit with digital and emerging markets segments remaining strong.
Agency organic revenue growth rates (YoY change)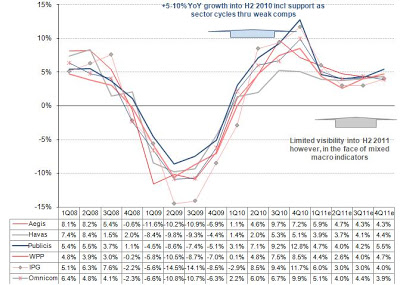 Margins
 Not all agencies will report Q1 margins (eg WPP), and for those that do, quarterly margins (and especially those for the thinner first quarter) are usually not that reliable an indicator for the full year anyway. More important will be any change in outlook for the year as a whole. While pricing pressure and pent up cost inflation after the squeeze in 2008 and 2009 will have already have been factored into current year forecasts, competition to invest in new digital services provide an additional potential drag to the pace of margin recovery. For group's such as Gfk which have focused on internal investment (into new measurement and internet services), this could absorb a further 70bps of margin growth in 2011, in addition to the c. 100bps in 2010. Others such as Publicis, WPP and possibly even Havas however are beginning to flex their funding headroom to pursue a more aggressive acquisition strategy, particularly in those areas that might otherwise have been the focus for internal investment. How much of this investment will get shifted off the P&L and into balance sheet intangibles remains a guess, but the sector's record of value creation from acquisitions is poor and also recognised by markets in share prices.
Agency EBITA margins (by key holding group)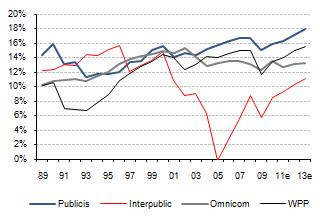 Agency sector EBITA margin change and organic revenue growth (YoY change)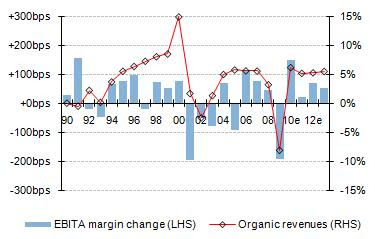 Agency organic revenue growth and growth ratings