Diageo's One Billion Dollar gamble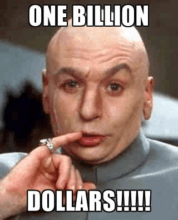 One Billion Dollars!, Yes, that's right, Diageo has agreed to pay up to one billion dollars ($700m up front with the remaining $300m deferred) for Casamigos, a four year old tequila brand created in 2013 by George Clooney, Rande Gerber (a "nightlife entrepreneur and Mr Cindy Crawford), & Mike Meldman (a property developer). Given that Casamigos gets someone else to make the stuff (Productos Finos de Agave (NOM 1416)) and sales this year are estimated at only around 170k cases (approx 2m bottles), that's clearly strong stuff and one just hopes Diageo shareholders aren't left with the traditional tequila hangover.
Perhaps unsurprisingly, Diageo is coy about the financials on this deal in its press release   preferring to retreat back into EPS justification with
"Diageo expects the transaction will be EPS neutral for the first three years and accretive thereafter. We expect the acquisition will be economic profit positive in the fourth full fiscal year post-completion."
Of course, when the deal is being funded from cash resources which are earning squat diddly in the current rate environment, this doesn't amount to much more than a plate of Mexican jumping beans.
So what is being bought?
The tequila is made by a reputable distillery and for those who can remember the experience, is not too shabby, albeit at $45 per bottle is not without competition and some reviewers have highlighted a change in the original formula that was not always well received.  Costco however appear to be retailing the stuff at around $34 per bottle. This price point however does raise the question on how much revenue per bottle Casamigos makes after deducting wholesaler discounts and duty. Assuming perhaps a generous $20 per bottle, that would suggest annual revenues of only $40m and therefore an exit multiple of over 17 times on the initial consideration of $700m alone. What sort of profit is made after paying the distillery and marketing can only be guessed at, but on these sorts of volumes, perhaps not a lot. For Diageo, the attractions of building up its small but fast growing tequila segment (currently only 2% of group sales, albeit up +18% in H1) will help to support its struggling organic top line, but is unlikely to provide an early kick-start to the deteriorating ROIC.
For investors, Diageo's heavy international exposure has offered a defensive appeal to weaker UK domestic consumption and sterling after Brexit, although as we cycle through the anniversary of the Brexit referendum, the more mundane progress in organic sales and margins will again become more apparent. While Diageo continues to target 'mid-single digit' organic sales growth and improving margins, progress is not always without a little help. For example, in its last report, which included a +4% organic rise in both sales and EBITA, approx 1ppts of the former was derived from largely inflationary price increases in LatAm (of +11%, with volumes flat), while the organic EBITA advance of +4%/+£87m happened to include the benefit of a -37%/-£103m reduction in depreciation provision.  With the stock trading on a prospective OpFCF yield for FY18 of only 4.1% (assuming a generous 90% net income to FCF conversion) it is therefore discounting a GrowthRating of nearer +5.5% CAGR; not obviously cheap while organic sales delivery is falling so far short of this and prospective acquisitions seem some way off being value accretive.
It seems that a combination of cheap money, celebrity endorsement and marketing hype can go a long way in the drinks industry starved of growth. Unfortunately, flashing the cash to buy into others successful brand start ups to compensate for ones own failing origination is something we've seem before with the recorded music industry. Like Robbie Williams and Marie Carey, George Clooney may look back on this acquisition price with enormous satisfaction. Hopefully Diageo shareholders fare better than EMI's did!