eBay – Closing long position with gain of +30% (+28% relative: +60% annualised)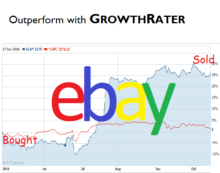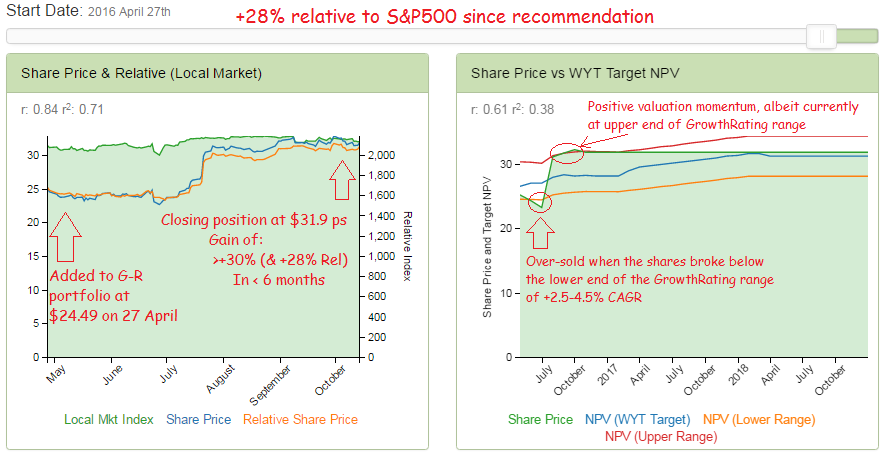 Buy low, sell high
Catalysts: Q3 results (due next week on Wed 19th) and Facebook's launch of "Marketplace".

Q3 results: eBay has already demonstrated at its previous results its ability to sustain a strong organic revenue growth as it re-invests and re-formats its core marketplaces business. The other side of this process however is that gross and net operating margins are being sacrificed, which we reported on in our last GrowthRater analytics investment summary (see below for link). Both of these ought now to be fully known by investors and therefore discounted ahead of the forthcoming results. With UPS and Fedex reporting relatively modest rates of package volume growth (domestic FedEx Express at only +1% YoY in Q3 and International flat, with spin down from priority to economy), the upside risk on eBay's results for the quarter to end September looks limited.
Facebook Marketplace launch: Although investors have generally focused on challenge from Amazon, Facebook has also entered the fray with its soft launch of its directly competing 'Marketplace' service, currently as a free option, albeit initially without a payment or delivery structure.  While the initial launch has had its share of glitches, including the much publicised listings for sex, drugs, guns and even babies, Facebook's reach provides it with immediate scale and as a free offering (initially) one might expect users to sample the service, thereby initially displacing business from eBay Marketplace. Whether Facebook can build the relevant scale and functionality to make serious inroads is less clear, but one might expect investors to be sensitive to the threat and therefore react more aggressively to any perceived weakness in the group's recovery strategy.
Valuation – the GrowthRater perspective: Back in April (27th) I flagged eBay as cheap and added it to my portfolio (http://growthrater.com/ebay-added-growthrater-model-portfolio-close-price-24-49/). The share price was under $24.5 ps and it was discounting growth of only just over +2% CAGR (see charts below), yet was delivering organic revenue growth of around +7% YoY and gross profit growth of >+4% pa, both being sustained into Q2. As a consequence, the shares have risen by over 30% actual and by +28% relative (to the S&P 500) in the subsequent five and a bit months to over $31 ps.  In terms of the valuation and as a consequence, the GrowthRating has hardened from the sub +2.5% that it was trading on back in April, to around +4.0-4.5%% now. Although well below its longer term potential and current organic revenue growth, that does bring it up to the current rate of underlying gross profit growth as well as kiss the top end of my +2.5-4.5% target GrowthRating range.

For more details visit the webApp at: https://app.growthrater.com/
To learn more about this unique approach please also see: http://growthrater.com/tutorial/