Wazzup today in the markets – 3rd May 2017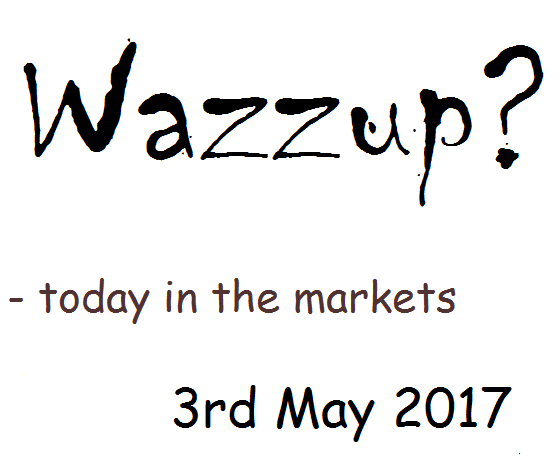 Apple (aapl) – Q2 FY17 results: iPhone unit sales edge lower on China fall        

.

Verisk (vrsk – Q1 FY17 results: Muted start to the year
Rational AG (raa_de) – Q1 FY17 results: A storming start following last year's 'SelfCookingCenter' launch
.    Muted start to the year from US & China.
---
Apple (aapl) – Q2 FY17 results: iPhone unit sales edge lower on China fall
A -1% YoY decline in unit sales of the iPhone (63% of sales) and the -14% fall in revenues from China (20% of sales) will probably where markets will focus on rather than the overall Q2 results which came in slightly ahead of guidance on most metrics, while forward guidance for Q3 is pitching for a modest improvement in revenues.  While service related areas such as Apple Pay are gaining traction, the continued erosion in iPad sales and dismal performance of Tim Cook's pet project of the Apple Watch, leaves the group still looking overly reliant on a single product, the iPhone, and an over-priced one at that from their loss of share in what ought to be their fastest growth market, China.
While providing markets with an excuse to knock back the shares after a strong run, the thought that the group may be ex-growth is hardly a novel one, with the shares trading on a prospective OpFCF yield of over 7% to discount a GrowthRating of around +2.5% CAGR, or possibly lower depending on the Trump tax 'reforms'. The problem for Apple so far this year and particularly this last quarter is the diminishing tailwind from last year's iPhone 7 launch, which had benefited from Samsung's self-immolating Galaxy note 7, but had always looked like a stop-gap before the real deal, the much hyped iPhone 8.  So what you have today, is what you had yesterday; a slow growth cash cow that one can trade around the iPhone release cycle and fine tune the valuation according to how efficient management are in distributing the excess capital back to shareholders.
If the share price comes back to the $120's again, then great, I'll buy some more ahead of a possible iPhone 8 release into the Autumn!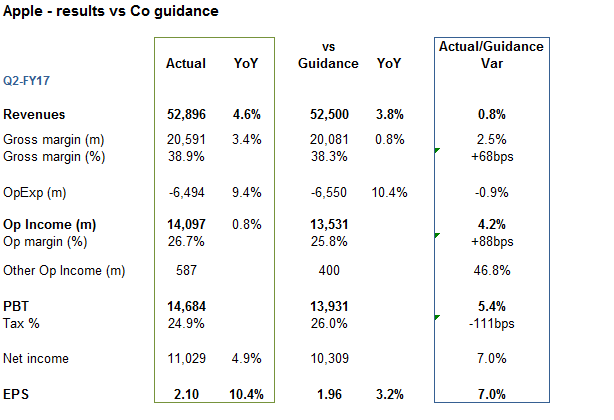 Summary data on Q2 revenues and unit sales here:
---
Verisk (vrsk – Q1 FY17 results: Muted start to the year
---
Rational AG (raa_de) – Q1 FY17 results: A storming start following last year's 'SelfCookingCenter' launch
New product launches during the second half of 2016 were promising to set the group up for a strong start to 2017, although few would have anticipated it would have quite so strong, with Q1 sales growth of +22%; and that against an already solid prior year comparative of >+10%. While much of the incremental spike in sales might be explained by the product launches and bunching of deliveries into Q1 from both adjacent quarters, the pick-up in sales to multi-chain operators in the US (including recently as Tim Hortons), suggest a long tail of potential future order-flow as these large accounts are further penetrated by the new lower price point products. With the group sustaining double digit organic sales growth across a broad front of markets, the GrowthRater mean reversion algorithm pushes out the valuation by 18 months to end 2018, supporting an NPV of approx €450-500ps.

Last trading update – Q1 FY17 results: Including some undisclosed bunching of orders into the period, Q1 was even stronger than expected, with all major markets ahead with the exception of Germany which was cycling against a particularly high prior year comparative due to the phasing of announced price increases. Costs of planned expansion of capacity, higher R&D expensing and a lower gross margin on the new lower priced unit however, curtailed the advance in underlying EBITA margins to only +10bps (to 25.8%) notwithstanding the +22% rise in organic sales. Including a +€4m swing in 'Other expenses' (B/S fx movts) to €1.3m, reported EBIT increased by +37%, which after broadly unchanged tax rate and finance charges, dropped thru to a +37.7% rise in statutory EPS, from €2.15 to €2.96. Excluding the balance sheet fx revaluations that are included within the P&L under 'Other expenses & income', the adjusted EPS would have increased by approx +23% from €2.38 to €2.85.