Zoopla stabilises agency membership which sugar coats 'Value Creation Plan'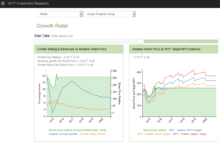 For more see – https://www.growthrater.com/growthrater/#/summary
Last trading report – IMS to end July 2015: The pill investors are being asked to swallow is a new incentive scheme that could reward the CEO with up to 7.5m new shares (via nil priced options) over the next 3 years dependent on a TSR exceeding +8% pa.
More details here – (www.zpg.co.uk/sites/default/files/trading-update-aug-2015.pdf)
The sugar coating however, is the confirmation that after the mauling from AM at the beginning of the year, agency membership numbers have stabilised, rising by 213 since March to 12,556 at the end of July with churn rates also reported to have returned to more normal historic levels. New home developer members however seems to have slipped back a little with July at 2,672 members vs March's 2,781. Overseas member though have hardened (from 664 in March to 684 in July) as have commercial members (from 182 in March to 219 in July) to increase the group's overall membership at end July to 16,131, an increase of +55 (+0.3%!) since end March. Overall listings meanwhile are reported to be up +7%, from 828k to 882k, uSwitch is "trading well" following the acquisition and the management is "confident of delivering FY15 results in line with expectations".