Shell shareholders deserve the BG deal they vote for!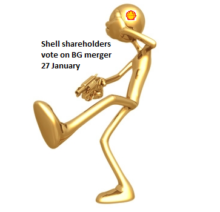 There is something very wrong about this chart below. It shows only two things. The price of Brent crude oil and the discount of the BG share price to the offer value from the Royal Dutch Shell offer.  The latter data series shows the discount narrowing as regulatory clearances for the merger are received and we approach the Shell and BG general meetings on the 27th and 28th of this month (January) respectively.
In normal circumstances this would seem a normal reaction as the transaction point nears, the discount narrows as arbitragers exploit the gap by shorting Shell and buying BG. Speaking to a number of buy-side oil analysts, there is a mood of resignation amidst the carnage of missed oil price forecasts that the deal will be rubber stamped by shareholders, much to the relief of the Arbs, which seems to confirm this eventuality.
That there has been so little push-back from Shell shareholders however is crazy, given that second line on the chart, the oil price. As we have already covered in previous blogs on this deal, Shell on its own estimates and even after increasing its project cost savings to $3.5bn pa (from $2.5bn), needs the oil price to recover to over $60/bbl, just for this deal to be EPS enhancing. Yes, that's right, Shell needs the oil price to double before it even washes its face from an earnings stand-point. With average FCF conversion from earnings under 70%, what that means is that you might need a recovery to nearer $100/bbl therefore for the deal to be substantially value accretive.  Shell will therefore be blowing its financial resources on a deal based on top on market oil price assumptions when it could be using it pick up the pieces as US fracking hedges unwind and loans are called in an pay cents on the dollar for distressed assets.  As the Brent oil price collapses, the BG discount, far from shrinking should be expanding as Shell shareholders wake up and smell the coffee. If they seriously believe that the oil price is going to recover back to over $60/bbl in the next 18 months, then why be in Shell, which is about to blow over $60bn of capital in a merger that would merely wash its face at that level. Why not just buy an oil derivative and save the cash for an oil group capable of taking better advantage of the depressed asset prices.
Well done guys, great job! (sarc)