AT&T confirms $107.5 agreed offer for Time Warner Inc – GrowthRater NPV of $102 ps incl 50:50 completion assumption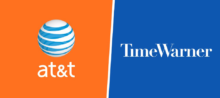 The initial flurry of newswire headlines (*1. see end of article) seemed to focus on the offer price of $107.50 per Time Warner share, with the narrative that AT&T was overpaying. I disagree. The bid is sensibly pitched. The issue markets should be focusing on instead, is whether the bid will ever reach completion in its current form given the regulatory concerns to competition from such a major consolidation. Add to this, the political sensitivities stirred up by the presidential election and this may provide another example of the tendency of certain politicians to 'run with the hare and hunt with the hounds' With little love lost between main media and Donald Trump, the latter's hostile position on an AT&T/Time Warner merger ought not to come as a surprise. For his opponent however, we have an almost comical situation where a public position may have to be adopted to challenge the deal, but where the private position may be diametrically different, particularly after CNN's obvious partisan support for that candidate. Perhaps an enterprising investigative journalist or Wikileaks will turn up an additional connection between the various parties to keep us suitably entertained in the meantime.
Agreed offer from AT&T: sensibly pitched at $107.5ps, but possibly only a 50:50 chance of regulatory clearance
Time Warner: AT&T have now confirmed the leaks and that it has agreed a $107.50 ps ($85.4bn MV/ $108.7bn EV) offer to buy Time Warner Inc
(link to press release http://about.att.com/story/att_to_acquire_time_warner.html)
Conclusions:
1. If permitted, the offer is value enhancing for AT&T' even without revenue synergies and scope to abuse a dominant market position. Such positions are usually strategically attractive for investors with this deal also providing the usual content/distribution strategic benefits – assuming it can also avoid the usual content/distribution culture clashes.
2. Taking a 50:50 chance of this deal getting completed, that suggests an acquisition premium from the cost synergies of approx $6 per TWX share versus my stand alone valuation of approx $96 and therefore a post announcement price target of around $102 ps.
3. For those who believe in a perfect market and that the pre-leak TWX share price ought to provide the pre-deal base point of just over $79 ps, then the NPV of the offer premium of approx $28 ps is around $23 ps. On a 50:50 deal probablity basis again, then these investors may be looking for the shares to trade nearer $91 ps.
• VALUATION: To put this offer into perspective, my GrowthRater valuation (NPV) on a pre-merger basis is at around $96 ps. This is based on what are broadly consensus matching trading forecasts and a target GrowthRating of +4.0% CAGR and opFCF yield of 6.1%. This is around a target GrowthRating range of +3.5-4.5% CAGR and an NPV share price target range of approx $86-106 ps. To put this into perspective with the group's trading, this is ahead of the group's historic organic revenue growth trend of +2.8% pa (a trailing 10 year), but is broadly in line with consensus organic revenue growth expectations into FY17 & FY18 of around +4% pa. It is also broadly consistent with the historic GrowthRating of approx +4.4% CAGR (range of +2.9-5.9% CAGR) that the group has traded on over the past 10 years.
• Synergies: $1bn pa of cost synergies are projected by Yr3 post closing. On an NPV basis and after tax I estimate this represents an OpFCF uplift of approx $550m pa, or +10% to TWX. Grossing this up at the same 6.0% OpFCF yield as my target valuation would equate to an additional $9.2bn, or around +$12 ps. This would take my undisturbed target valuation for TWX of approx $96 ps to around $108 ps.
• REGULATORY CHALLENGE: Having bought Direct TV for approx $50bn and now with over 25m of US pay TV subscribers on top of its 380m people in N. America that it supplies with high speed internet, AT&T's proposed acquisition of Time Warner will inevitably attract regulatory investigation and explains the end 2017 estimated completion date (if at all). It has also attracted a hostile response from 'The Donald' who has threatened to block the deal if elected (http://www.bloomberg.com/politics/articles/2016-10-22/trump-would-block-proposed-at-t-time-warner-merger-if-elected). While the polls (and Paddy Power) might suggest a less that 35% chance of a Trump presidency and the Clinton camp may feel an obligation to reward CNN for its coverage, the prima facie case for regulatory push back against the already heavily consolidated media landscape ought not to be ignored. As such I would only price in a 50:50 probability at this point of this deal being completed as planned
*1. Cassandras of the deal
http://realmoney.thestreet.com/articles/10/23/2016/att-overpaying-time-warner