Sky bid – keeping the narrative bogged down with the media plurality red herring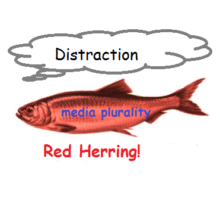 Reading this morning's press reports on Murdoch's £10.75 per share agreed offer to buy  out the outstanding 61% of Sky he doesn't already own, one thing becomes clear. With the bid coming from 21st Century Fox this time rather than News Corp, the consensus narrative is that this is expected to reduce the regulatory risks about media plurality that was the principal regulatory focus back in 2010/11 when Murdoch last bid. This however, seems like a red herring; not so much due to it being patently obvious that the controlling shareholder of both groups is the same person (Duh!), but that the real issue is about vertical integration being used to limit competition. Have you not wondered why AT&T is bidding for Time Warner and Murdoch wants to integrate Sky with 21st Century's content origination?
The problem is that for these legacy distribution networks, technology and consumer expectations have moved on. High speed internet access is not just becoming ubiquitous, but is now almost akin to an expected human right, with governments held responsible for ensuring their provision. For the incumbent pay TV distributors, that means they have not only lost control of the distribution bottlenecks, which ensured pricing power to the consumer and cost control on the suppliers, but that the lower interconnection costs for competitors to access these new platforms means that the same ROIC can be achieved on a considerably lower gross margin, notwithstanding the lack of scale advantage.  The inevitable response therefore is either to deploy additional capital to other areas of the distribution chain (but lower marginal ROIC), or to find ways of limiting competitor access to premium content to maintain your own pricing power. Unfortunately, using a legacy scale advantage in content rights to perpetuate similar exclusive access to competitors smacks of an abuse of dominant market position. One potential remedy has been to require Sky to re-sell content into the secondary market via its wholesale agreements, although this has been of limited assistance in opening up distribution and has also tended to support other programme bundlers such as BT and cable rather than the emerging OTT suppliers such as Netflix and Amazon who have been forced to invest in their own content and who are also beginning to establish their own nascent user bases. With distribution monopolies challenged and now content access circumvented, the current strategy of vertical integration seems like an attempt to turn back the clock, by bringing in-house control of exclusive premium content that was once secured under a third party supply agreement. If the use of long term and staggered exclusive content supply agreements were being used to limit competitive entry into pay TV markets and therefore seen as a potential abuse of a dominant market position, the attempt to circumvent this by bringing the content in-house via a vertical integration, must also be seen as anti-competitive.
While the narrative remains mired in the issue of media plurality (of increasingly discredited main media), the real issue is the one driving the whole trend towards vertical integration; that being the attempt to retain pricing power by controlling competitive access to exclusive content. If the narrative can continue to be steered towards the media plurality red herring, then Murdoch may well succeed in his bid, even if a face-saving regulatory investigation is commissioned by the government to show that it is not a Murdoch poodle.