Auto & jobs slowdown in August – another excuse for the Fed not to raise rates!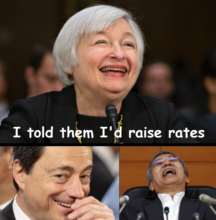 Another month of hints about imminent interest rate increases by Yellen and the Fed leak machine and we are probably no closer to an actual rate increase. At least in July we had another relatively firm private sector job creation and US auto sales to suggest that the super-low rate environment was well past its sell by date. One month can be a long time in economics however, and with these metrics turning south in August, it seems markets will need to again push out the point at which the Fed will get serious on its threat to raise rates.
As for the data, as if the Fed is really interested in this, August has seen US auto sales contract at a slightly faster rate than expected (at approx -4.0% YoY and -4.6% MoM) while private sector net job adds has reduced from July's +225k to only +126k. Include a drop in annualised average income of around -100bps to +3.5% YoY on the prior month on reduced average hours of employment and an Auto industry that is loudly dialling back its sales projections for the second half of the year and 2017 and Yellen has yet another excuse to defer the rate increase. But for those worried about the US dollar, China remains in the dumps, Japan seems determined to implode its economy, the Euro is seemingly in self-destruct mode and we'll still be spun the story that a rate increase really is just around the corner in the US!
Reduced hours impacts private sector income growth in August
Average hourly earnings edged up in August (+0.2% MoM), albeit with the YoY rate of improvement easing back from July's +2.6% to +2.4%. Lower hours worked however (-0.6% MoM) meant that average weekly earnings declined on a MoM basis (-0.5%/-$3.97 per week) with the YoY improvement dropping back from July's +2.3% to only +1.5%. Taken with the lower rate of net job additions, this meant that total private sector earnings contracted by approx -0.4% MoM with the YoY growth dropping back from July's +4.3% to +3.5% in August.

Income growth impacted by contraction in average hours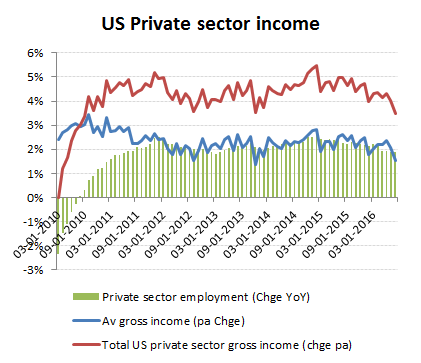 Government and related areas buoyant ahead of presidential election (buying votes again?)
By sector, job growth trends were broadly unchanged on prior months, albeit with a noticeable strengthening of government and related areas (ahead of the election), with manufacturing related areas still experience modest rates of contraction (strong dollar, offshoring and capital allocation to share buybacks?). With the earlier stabilisation in oil prices and US oil rig counts, this also continues to be reflected in the bottoming out of the trough in Mining & Logging employment segments.