Bollore parks tanks on Berlusconi's lawn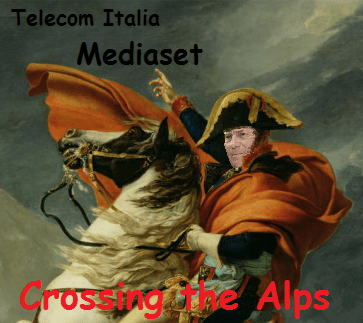 Embroiled in litigation and a war of words over Mediaset Premium, Bollore's has parked his proverbial tank on Berlusconi's lawn by announcing a 2o% stake in Mediaset on the 14th December (http://www.vivendi.com/en/press/press-releases/vivendi-reached-the-20-threshold-of-mediaset/) and if he didn't get the message, a further announcement yesterday (19th December) of his intention to take Vivendi's stake up to 30%  (http://www.vivendi.com/en/press/press-releases/vivendis-management-board-decided-to-increase-its-investment-in-mediaset-within-the-limits-of-30-of-the-share-capital-and-voting-rights/). Clearly, Bollore's corporate raiding skills haven't diminished, although the strong arm tactics and real prize should not come as a surprise and was flagged here back in June (see below).
The big question is now what?
The first step would seem to be to demand a seat on the board, although as Bollore found with Aegis, I would expect this to be rebuffed by Mediaset as Vivendi is both rival and in hostile litigation with the group. With Berlusconi's Fininvest owning 34.7% of Mediaset, Bollore's room for manoeuvre would also seem to be limited; providing a potential blocking stake for major corporate transactions, but little else. Mediaset still needs to resolve its attempted sale of its ailing pay TV arm (Premium) to Vivendi, although it remains unclear as to whether this move may only serve to harden the respective positions which will then have to grind their way through the Italian judicial process.  The issue therefore for investors is whether this represents an improved prospect for a control premium being paid for Mediaset, but with no signs of Berlusconi wanting to relinquish control, this would not seem to be the case. Perhaps this is just an attempt at greenmail by Bollore to extract concessions, including on Premium, but again, the Fininvest stake seriously limits Bollore's leverage here unless he can rally the independent shareholders. His best bet it would seem would be to bang on about Mediaset's appallingly low commercial TV margins in Italy, which from the perspective of the independent shareholders would be positive if it provided a real catalyst for change, although given Canal+ in France is still unprofitable, Bollore's credentials on this matter are not particularly strong. Indeed, with TF1 margins also seriously lagging comparative UK and German group's, Mediaset investors may have preferred lessons on how to run a broadcaster to come from another source!